Eduardo Chillida. Frankfurt Goethe Universität
+ info
The chairs are aimed at fomenting and promoting knowledge and research into specific topics on the Basque language and culture through specialist professors and artists themselves. The Etxepare Basque Institute has to date created three international chairs, all of which undertake annual academic programmes on Basque Studies.
Eduardo Chillida Chair at the Johann Wolfgang Goethe University in Frankfurt
It was established in 2013 and its goal is to promote specialised study and research. It began with classes on the great Basque artist Eduardo Chillida and during the academic year 2014-2015 it plans to organise an international conference on the artist.
The chair is located in the History of Art Institute at the Johann Wolfgang Goethe University in Frankfurt and classes form part of Curatorial Studies, administered by the same Institute; furthermore, the Frankfurt Library of Art houses the entire bibliography on the artist in his own section, thereby becoming a point of reference for scholars of his work.
It annually invites a prestigious scholar to offer a seminar or a series of talks. Moreover, the faculty will hold a top-level biannual international symposium on Eduardo Chillida's work.
May 5- July 1 - Larger than the Body: Issues of Size and Scale in Postwar Art: The case of Eduardo Chillida
Inhalt

In this course we will examine what is generally called the 'expanded field of postwar art', but what could more precisely be termed as the 'expanded scale of art after Minimalism'. We will explore the possibility of developing a critical framework to assess the manifold largesize and 'gigantic' objects that ever more frequently populate contemporary museums' galleries, vestibules and plazas.

To this end the course will proceed, after a general introduction into the conundrum of size and scale in postwar art, via four in-depth studies of the diverging notions of size and scale within the specific work and practice of four seminal American artists, each of which are generally associated with the scalar inflation of art: Barnett Newman, Claes Oldenburg, Donald Judd, and Richard Serra. Each of these four artists are systematically mentioned in discussions on size and scale, yet all too often without a proper comprehension of the particular understanding of size and scale that their respective works and practices advance.

We will zoom in on the body of work of each artist in order to trace and describe the Understanding of the relative size of an artwork that the respective artists develop over Time throughout their works and writings, in such diverging media as painting, sculpture, and drawing, against the background of rapidly changing realms of architecture, urban planning and image culture in the second half of the 20th century.

In a final course we will bring into play the critical and historical framework to analyze the work and practice of Spanish artist Eduardo Chillida. Whereas Chillida gained fame with monumental, outdoor sculptures, his smaller works – many of which remarkably enough openly reference architecture – deserve attention, as they delicately navigate between object, model and sculpture.

The structure of the course reflects the current state of affairs of a book-length project on size and scale. The latter's goal is to pin down the point and moment at which an object grows either too large or too small, i.e., it becomes out of scale. The book aims to examine to what extent the human body, or the actual body of the spectator in particular, still serves as the predominant gauge for the evaluation of the scale of an art oburban environment. Following a series of lectures, students will receive an assignment (presentation + paper) for which they are stimulated to rehearse one or more of the proposed conceptual claims.

Course Schedule:

Course 1: Issues of Size and Scale
Course 2: Barnett Newman
Course 3: Donald Judd
Course 4: Claes Oldenburg
Course 5: Richard Serra
Course 6: Eduardo Chillida
Course 7: Plenary Final Presentations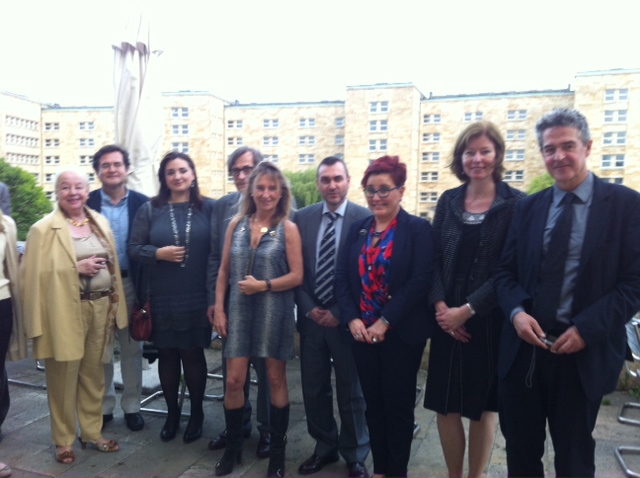 Frankurt. 2013_06_13
Ver todas las imágenes